Associated Steam, Air and Hot Water is sharing the article below. If you would like more information, or a hard copy of the checklist, please contact our offices!
by Jon Bingaman, Director of Global Humidification Markets for Armstrong International
It's not enough for a humidification system to simply add moisture to dry air. Control of relative humidity is essential – even critical – in some applications. Yet, there are a variety of factors and individuals that converge making it complex and challenging to design proper humidification systems.

Factors such as communications capability, energy economics, water conservation, and sustainability need to be considered. There is also the input and influence that comes from a variety of stakeholders including owners, construction managers, architects, mechanical engineers, designers, mechanical contractors, sheet metal contractors, controls contractors, humidifier manufacturer's representative, and even the manufacturer. So how do these parties, most of whom wouldn't consider themselves humidification system experts, work together to get it right?

A project manager from a large consulting engineering firm asked me that question a few years ago. I'll address that question here, but let's start at the beginning.

The Plan & Spec Process
The "plan and spec" process begins with the owner. The owner may already be equipped with knowledge and experience that he shares with a consulting/specifying engineer or there may be some corporate specifications in place that dictate and guide the process. In some cases, the owner may only know what he doesn't want. In most instances, the owner relies upon a hired consulting engineer as his professional guide or expert.

The Consulting/Specifying Engineer
The plan includes a mechanical engineer laying out his design. Many engineering firms have a general humidifier specification that they use. These specifications sometimes originate with a specification service, prior to the engineer customizing the spec to his liking. Engineers that typically get the best results are the ones that keep the specifications up to date. When six manufacturers are listed as approved, including two that are out of business, the immediate impression is that low price is all that matters. Some believe details are not important while other specifications are clear and concise, calling for features that demonstrate measurable performance. Humidifier specifications are generally segmented by type. Some engineers supply specs that inadvertently combine two or three generic humidifier types together to form an indecipherable mash. When this occurs, the spec must be ignored and the humidifier equipment schedule takes priority.

Engineer as Problem Solver
What if the architect has a problem in regard to a vapor barrier? Or, perhaps the engineer needs to go back to the architect for a change regarding required length of a certain pipe run. Or, there's a question about the use of powerhouse steam for humidification. Perhaps a certain area is known for having particularly "hard" water. Will that impact the humidifiers? The engineer is the individual responsible for bringing it all together, sitting down with the owner, and talking about options.

Construction Managers
The construction manager is hired by the owner and is looking out for the owner's interests. The construction manager may become involved in "value engineering" a project and may provide input to the engineer with cost cutting in mind in areas such as pipe size, duct size, elimination of a boiler, etc., but seldom will the CM comment on the humidifiers, themselves.

An Informed Owner/Operator
Owners are the ultimate beneficiaries of a well-designed system and educated owners/operators can make informed decisions about the options available. If a system is designed, purchased, and installed simply on the basis of a weak humidifier specification where the lowest priced technology wins, the owner may feel the potential consequences from an inferior operating system over the long term.
Providing owners with an objective comparison and analysis of the various technologies available may avoid a common pitfall of selecting the least cost option and the trade off that will be made in capturing long-term operating efficiencies.

Mechanical Contractors
Experienced, quality mechanical contractors are invaluable. They solicit pricing and typically submit for approval equipment from manufacturers they know and manufacturer's representatives that they trust. The mechanical contractor is also responsible for installation of the humidifier and proper installation is critical in attaining desired performance. The mechanical contractor competes to win jobs, so low priced equipment is attractive. However, the mechanical contractor is typically responsible for initial equipment start-up and performance through the first year. Thus, it's important that the humidification equipment he supplies performs.

Avoiding Potential Problems
And now back to our original question: How do the various parties influencing a project work together to "get it right"?
Giving consideration to several key questions at the design stage of a humidification project benefits both the installer and the equipment's owner. Informed decisions contribute value to system performance, impact energy consumption, and affect long-term maintenance requirements.
Dialogue between a well-versed specifying engineer and the owner helps to identify priorities and establish the type of equipment to be used. General considerations and questions should include:
Survey of building construction – can the space or building hold the levels of humidity desired and are vapor barriers properly located?
Availability of utilities
Selection of the proper water type for the humidifier to be used (if other than direct steam injection). Types include:

Potable (tap) water from the city or a well source
Softened water
Reverse osmosis (RO) water that's filtered to remove
most minerals
De-ionized (DI) water that's high quality and mineral free
What are the tolerance requirements for humidity control?
Where are the humidifiers to be located?
How important is energy consumption of the humidification equipment?
How is the equipment to be controlled and monitored?
What type of manpower support will be available to maintain the equipment?
Is priority on low first cost or reliability and long term operating and maintenance cost?
Humidification Design Checklist for the Design Engineer
Once some of the key project parameters have been outlined, a humidification design checklist, organized by humidifier type, can be used to assist the engineer in evaluating humidifier technologies in order to:
Inform the owner of options
Form and make solid recommendations
Avoid potential problems that occur when certain aspects are not considered
The common types of commercial/industrial humidifiers used today and some general comparisons are found in Table 3-1 below. Our checklists focus on direct steam injection (separator type), direct steam injection (short absorption panel type), steam-to-steam humidifiers, electric steam generating humidifiers, gas fired steam generating humidifiers, and fogging systems.
The Humidification Design Checklists outlined within this document are intended to be simple tools to remind engineers of considerations when evaluating various technologies prior to designing a humidification system. Following these checklists will help the engineer to better inform his client of the options available. This isn't an all-inclusive list, but rather an aid to help more humidification projects perform up to expectations in order to benefit engineers, contractors, and owners.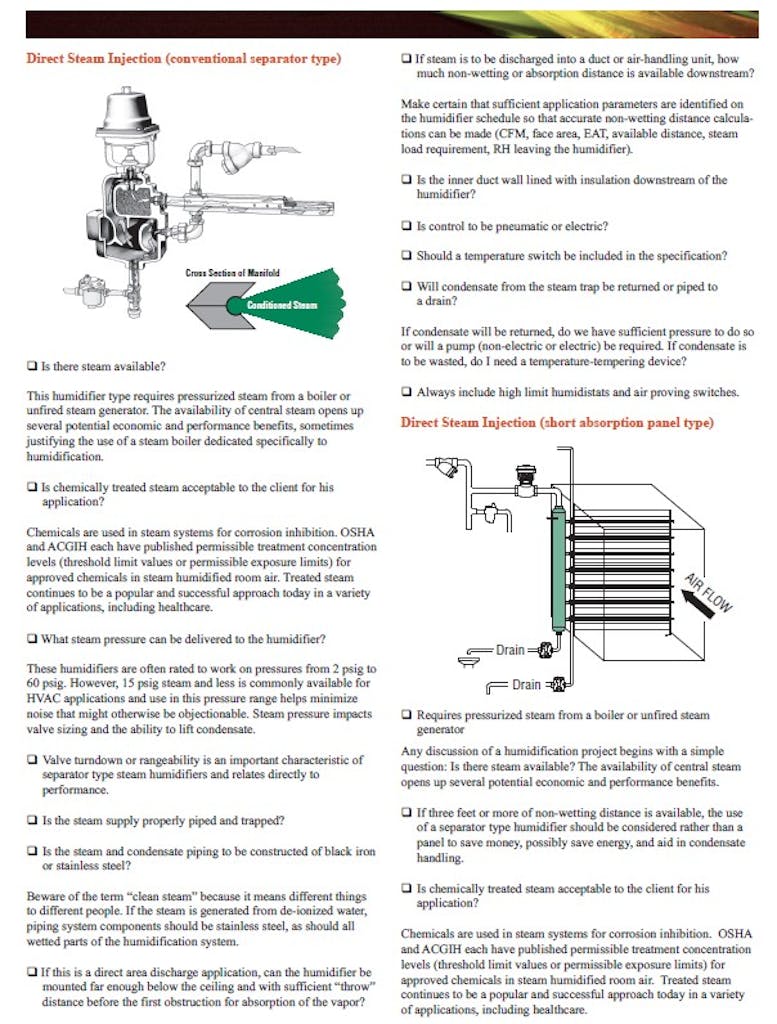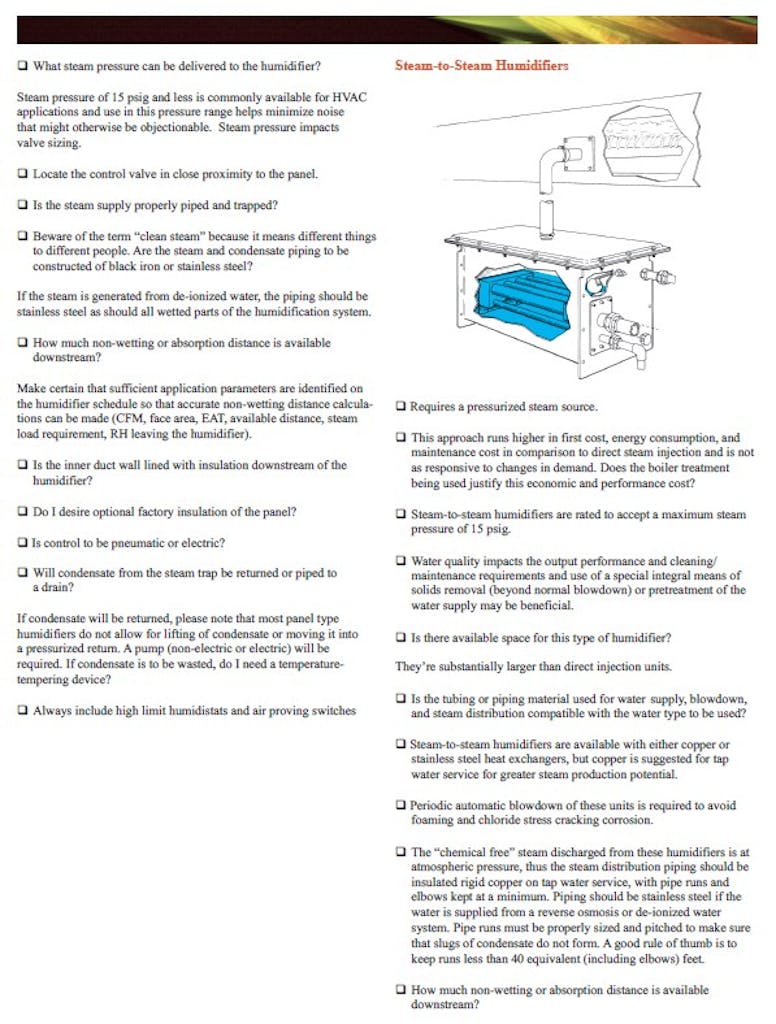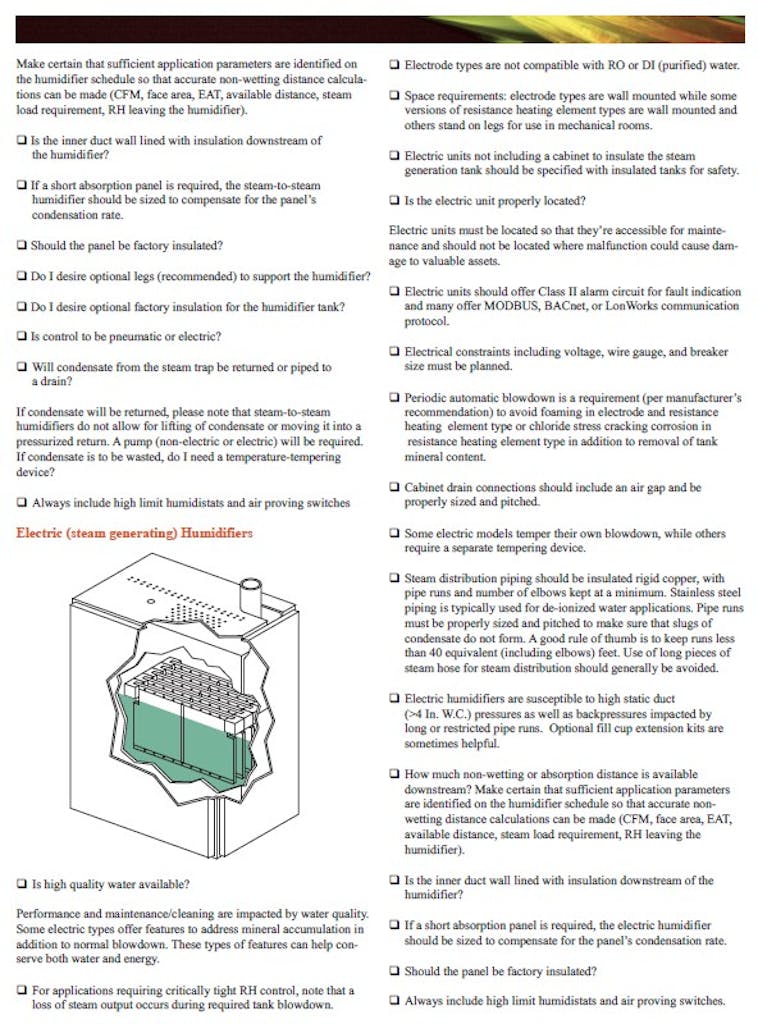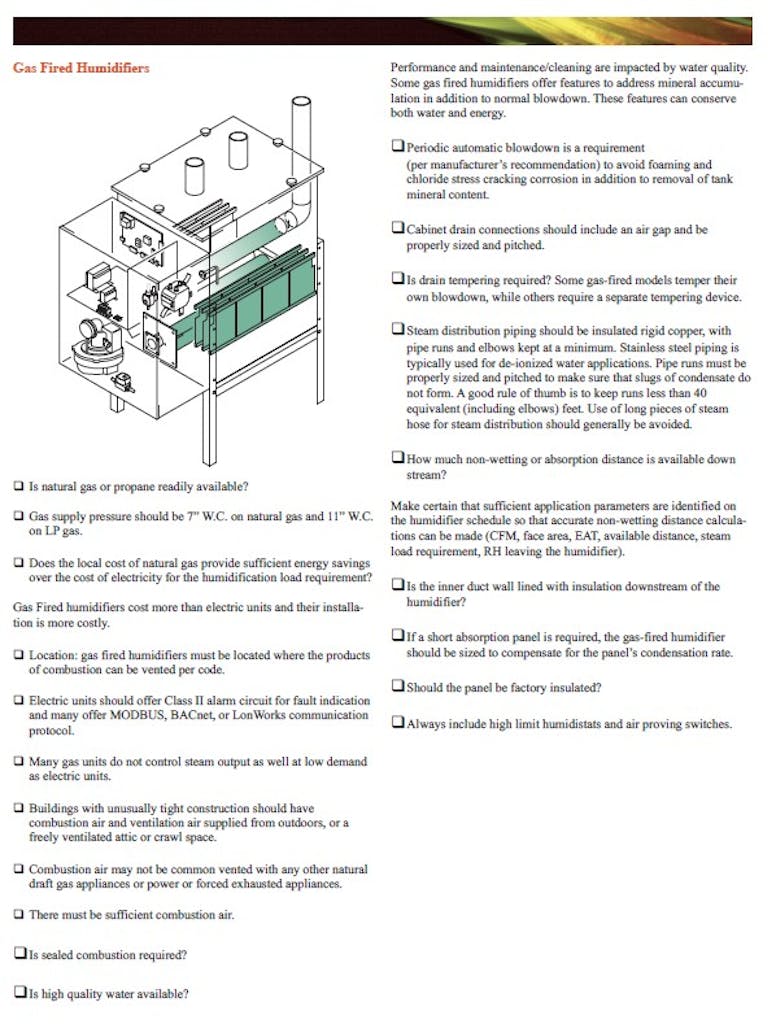 At Associated Steam, Air & Hot Water we understand that the success of any project depends upon an understanding of the facility needs, optimum selection and design of the system, and reliable performance of the system equipment. Established in 1954, our team offers over 200 years' industry experience, with staff ranging from Engineers to Contractors. We interrelate with consulting engineers, contractors, end users and maintenance staff to ensure your satisfaction.  Associated's body and depth of experience makes us the ideal partner for all of your Steam, Air and Hot Water needs.