Second article in a series about commercial, industrial, and institutional energy evaluations
Energy audits are used in the residential and the commercial/institutional/industrial building sectors. An energy audit is a process inspection and survey to understand the energy use of the building and to identify opportunities to improve energy efficiency while maintaining or improving occupants' comfort. The energy audit can range from a simple walk-through of the building to a detailed audit with onsite measurements, tests, and analysis of many, if not all, building systems.
While the previous article dealt with the planning and information needed before the actual onsite evaluation, now we will look at some of the steps the actual investigation includes.
For purposes of this example, please assume we are dealing with a light-industrial facility that uses electricity to generate steam. The steam is then used to power process equipment throughout the facility.
To get an understanding of the actual evaluation process, I went to Rob Adams, Sales Engineer with Associated Steam, Air & Hot Water (www.associatedsteam.com)
Rob gave me the following run down of the actual evaluation of the facility equipment:
"When we visit the plant, we take measurements and temperature readings on any exposed valves/fittings, etc. These readings will allow us to calculate energy losses seen at the plant."
First there is a review of the information provided before the audit. Once that data has been considered and used to set a baseline, our Sales Engineers will physically inspect the valves, fittings and any other equipment that is part of the process. This will include using a variety of tools, such as SAGE reporting, thermal scans, and looking at the equipment to evaluate status and efficiency.
The onsite review can take anywhere from one to five days, depending upon the number of pieces of process equipment to be audited. Our sales engineer will inspect the steam traps and fittings and determine if they are in good working order. While labor intensive, this survey is a necessary part of understanding and properly evaluating the flow of liquids, gasses, or steam powering the process equipment. While there may be no flashing alarms or sudden equipment shut-offs as a result of the failure of a system component, they do happen and your system should be reviewed on a regular basis to maintain the highest level of efficiency and throughput.
According to Dave Ohler, in his article "3 Reasons Your Steam Traps Are Failing" (https://www.facilitiesnet.com/maintenanceoperations/article/3-Reasons-Your-Steam-Traps-Are-Failing–19308),
"Any facility that uses steam has steam traps. The steam trap has a simple job. While there are different types of steam traps for specific applications, their fundamental purpose remains the same: to remove condensate from steam pipes and keep steam in the pipe.
If the condensate is not removed from the steam pipe, there is potential for a dangerous water hammer situation, which can result in system damage and operator injury. Alternatively, if a steam trap fails open, it will allow live steam to pass through resulting in wasted energy.
Assuming the steam trap is working effectively and operates continuously, it makes it all too easy to forget about these little workhorses. According to the U.S. Department of Energy, the annual failure rate of steam traps is approximately 5 percent. Therefore, if it has been five years since the last steam trap evaluation at a university campus, for example, it is likely that 25 percent of the traps in the system have failed — meaning money lost for building owners." 
And this loss shows up in two ways: the lost thermal energy through the steam trap and downstream damage to other equipment.
Rather than wait for some type of catastrophic failure resulting from minor failures that were not addressed over time, wouldn't the prudent approach be to schedule a system evaluation on a regular basis?
One of the best breakdowns of the process and tools available can be found in the Armstrong Bulletin-333 "Steam Trap Management Services". A copy of this presentation is available from either your Associated Steam Sales Engineer or by contacting our offices directly (800-477-1620 or sales@associatedsteam.com) Below are several excerpts from this information, highlighting the importance of testing: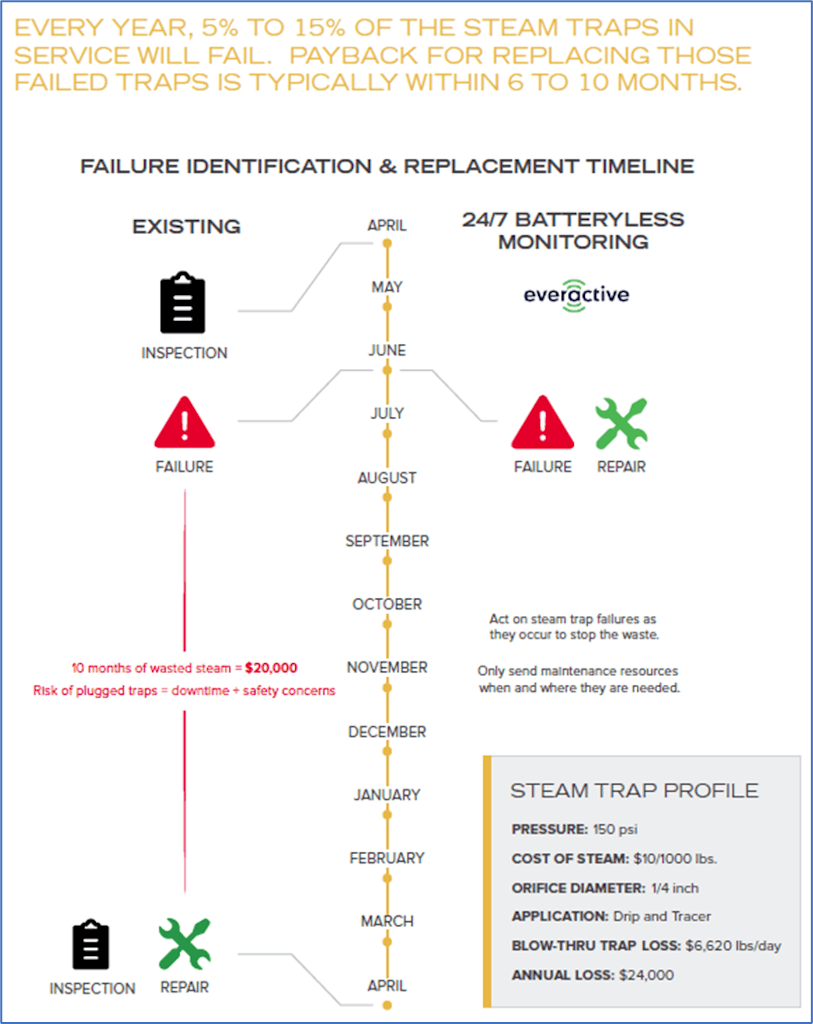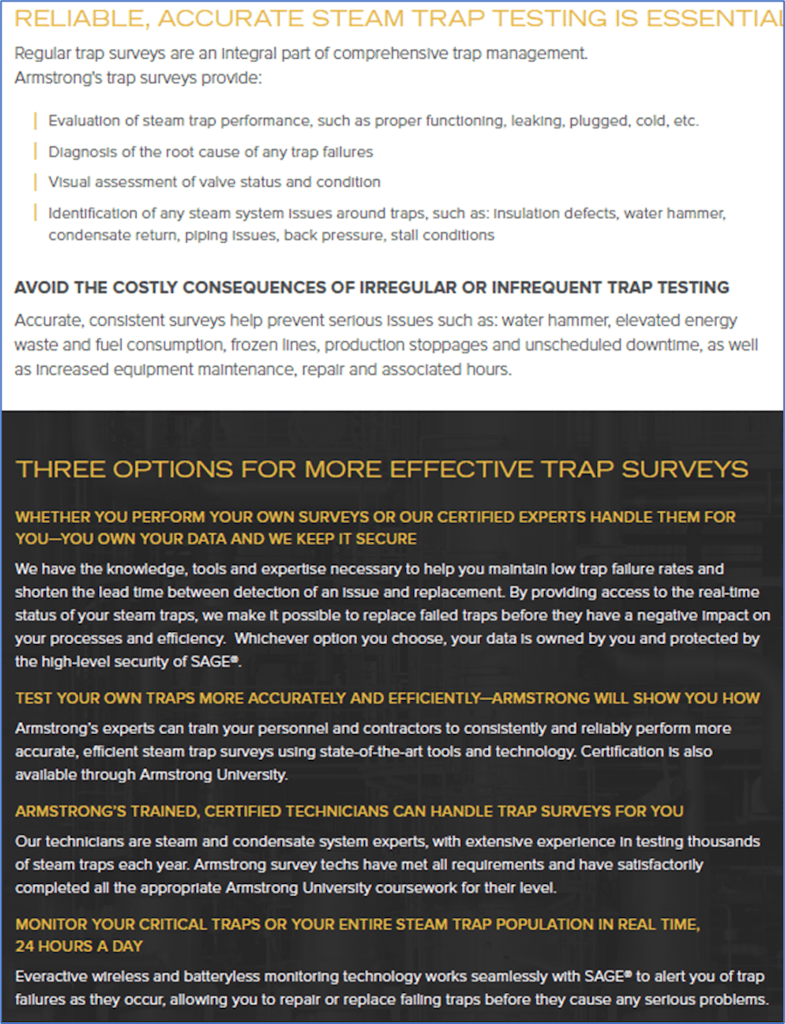 Once complete, the data gathered will be compiled into a report detailing any equipment failures and recommended replacements. The baseline data along with the current equipment status report will allow our sales engineers to calculate the process efficiency improvements that are recommended.
Another important resource that your Associated Steam Sales Engineer can provide is access to several online courses, training information, and seminars. These courses are available at Introductory, Intermediate and Advanced levels and provide a wealth of knowledge and understanding of the process.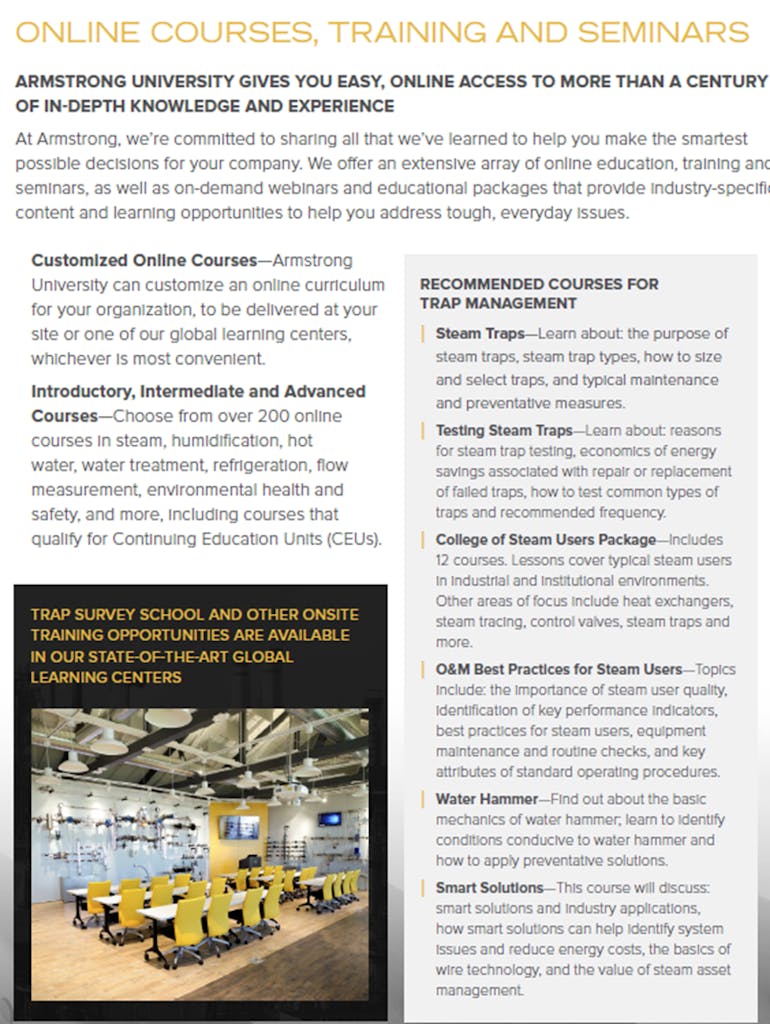 At Associated Steam, Air & Hot Water we understand that the success of any project depends upon an understanding of the facility needs, optimum selection and design of the system, and reliable performance of the system equipment. Established in 1954, our team offers over 200 years' industry experience, with staff ranging from Engineers to Contractors. We interrelate with consulting engineers, contractors, end users and maintenance staff to ensure your satisfaction. Associated's body and depth of experience makes us the ideal partner for all your Steam, Air and Hot Water needs.