A Quick Guide to Saving Money on your Process Steam
To determine annual savings in condensate return, you must first determine if you have an "Open" or vented return system or a "Closed" return system.
An Open or vented return system is the most common type, where steam traps discharge to a receiver tank that is vented to atmosphere. The drop in pressure from the steam trap to the atmospheric tank creates flash steam that is vented to the atmosphere and lost. The condensate is pumped to remove the liquid from the receiver.
A Closed system is where the steam traps are tied into a closed pressurized return where flash steam is maintained or utilized in the system. These are special systems that must be engineered to work properly. Because flash steam contains the same valuable heat BTU content as live steam, tremendous energy savings can be seen when flash steam is utilized.
The following link will take you to the Armstrong calculator, where you can enter site-specific information. These calculations are valid over the range of -10 psig to +600 psig.
https://www.armstronginternational.com/knowledge/resources-library/calculators/save-returning-condensate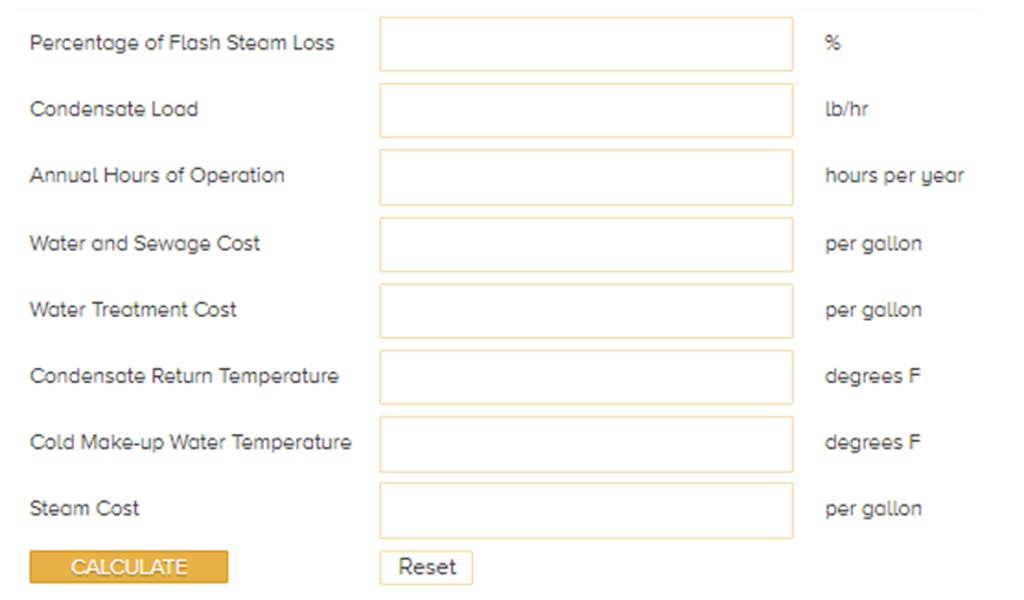 ASSOCIATED STEAM, AIR & HOT WATER is the Mid-Atlantic's premier Manufacturer's Representative for all your Heat Exchange and Fluid Specialties requirements including Airside, Filtration, Flow Measurement, Hot Water, Valve and Steam products. Associated provides total solutions in steam and condensate, heat transfer, hot water and humidification in Delaware, Maryland, New Jersey, Pennsylvania, northern Virginia and northern West Virginia. Associated Steam is a member of eMMA and NJStart and is a proud to offer products under the Pennsylvania COSTARS-8 contract.