Associated Steam, Air & Hot Water is proud to have been a Silver Sponsor of the ASHRAE Region III CRC, hosted by the Anthracite Chapter. With a special thanks to Ron Sibulsky for all the hard work put in to make this a successful event
The 2022 ASHRAE Region III Chapter Regional Conference was held August 18th through the 20th, hosted by the Anthracite Chapter at the Mohegan Sun Pocono Resort and Conference Center. The conference was attended by 128 people from Society and the Region III Chapters; Philadelphia, Central Pennsylvania, Johnstown, Pittsburgh, National Capital, Baltimore, Hampton Roads, Richmond, Lehigh Valley, and of course, Anthracite.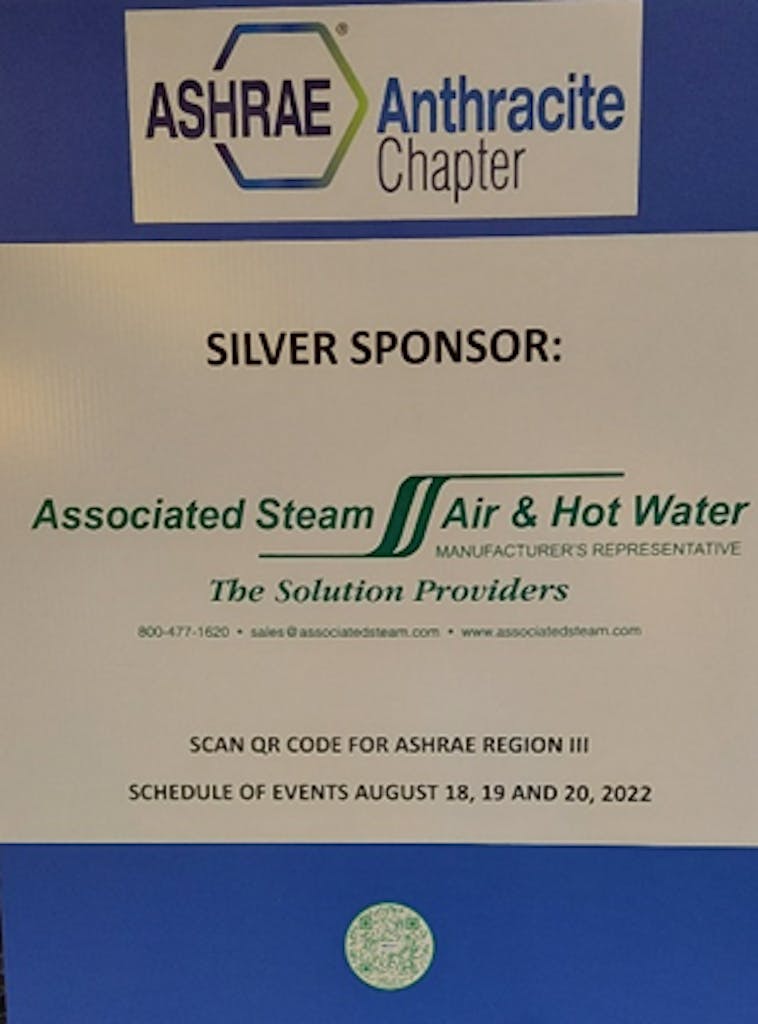 The conference began Thursday with two tech sessions in the morning and two tech sessions in the afternoon. A brief synopsis of the tech sessions available, with their presenters, is below:
The Future of Refrigerants
Stephen Kujak, Director of Next Generation Refrigerants Research for Trane Technologies
New societal environmental demands to control climate change are driving the development of new regulatory policies to restrict and lower the direct GWP (global warming potential) impact of F-gases. The HVAC&R industry is currently being challenged to invest significant resources to understand the best refrigerants that meet the above requirements. However, there are many uncertainties and challenges given the ever-changing global regulatory environment, within regions, country, state, and sometimes locally by city. Safe non-flammable low toxicity F-gases allowed for an exponential increase in the standard of living of society through increased food productivity, reduction in heat related deaths, increased worker productivity and migration of people to cities and to hotter climates. The orderly transition from CFC's to HFC's and HFC's achieved a balance between societal environmental demands for reduced ozone depletion while continuing to improve the standard of living in developing countries and minimize the societal safety (nonflammable refrigerants) impacts for everyone. Today designers are being asked to consider new lower direct GWP unsaturated hydrofluorocarbons (HF refrigerants, some of which are slightly flammable under certain conditions, as well as revisiting the application of natural refrigerants, like carbon dioxide, ammonia, hydrocarbons, and water. This presentation will provide an update on new lower GWP alternatives introduced into the marketplace and will highlight some important considerations, particularly flammability, that engineers, designers, and building owners should keep in mind regarding next generation refrigerants.
The Carbon Context for Mechanical Engineers
Erin McConahey, ASHRAE Fellow, HDBP, Principal in Mechanical Engineering with Arup
This session is an introduction to the big picture trends associated with the growing momentum around building decarbonization. It includes a review of market-related concerns arising from ESG reporting (Environmental, Social, Governance), the trends towards lowered carbon intensity of electricity at the grid level, the emerging local regulatory influence, and technology considerations. This session expands on the speaker's September, 2021 ASHRAE Journal article on these topics.
Project Delivery Methodologies
E Mitchell Swann, Board of the Philadelphia Energy Authority and PA State Uniform Construction Code Review and Advisory Council
This program will present an overview and comparison of some of the more common project delivery methodologies. We will review the key differences and some similarities between the methodologies along with strengths and weaknesses of each. We will also discuss key elements of scope control, project acceptance and risk management with a special emphasis on Integrated Project Delivery.
Sustainable Data Center Cooling
John Pisklak, Critical Air and Power Infrastructure Specialist
From the presentation, attendees will be able to identify:
What is a data center?
What design guideline should be considered and applied?
What level of design is required?
What approach should be taken to sustainable data center design?
Friday began with a morning business meeting dealing with Society issues and motions followed by the Presidential Luncheon. The business meeting was then continued in the afternoon. In the evening everyone was treated to a Welcome Reception Friday night at the Mary Stegmaier Mansion with a cocktail hour including musical entertainment, a fabulous meal, and a speaker on the area's history. The sponsors, including Associated Steam, Air & Hot Water were presented with awards for their support.
Saturday included breakout sessions in the morning and afternoon for the Chapter officers and committee chairs, but the highlight of the day was the Awards Luncheon at which Ron Sibulsky of Associated Steam and President of the Anthracite Chapter was presented with several awards, including "Top Gun", "Limelight", and "Blue Ribbon", honoring the Anthracite Chapter. At the end of the day was a wrap-up meeting with the Society and Regional Officers reviewing the success of the conference.
For more information, please contact:
Ron Sibulsky
610-223-6528
Associated Steam, Air & Hot Water
President, ASHRAE Anthracite Chapter
Associated Steam, Air and Hot Water is the Mid-Atlantic's premier Manufacturer's Representative for all your Heat Exchange and Fluid Specialties requirements including Airside, Filtration, Flow Measurement, Hot Water, Valve and Steam products. Associated provides total solutions in steam and condensate, heat transfer, hot water and humidification in Delaware, Maryland, New Jersey, Pennsylvania, northern Virginia and northern West Virginia. Associated Steam is a member of eMMA and NJStart, and is a proud to offer products under the Pennsylvania COSTARS-8 contract.